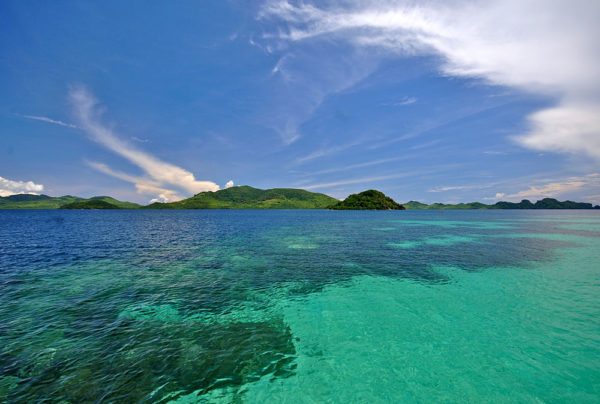 Equity markets are having a good year. The S&P 500 is up over 10% and there are still 4 months left in the year. But Emerging Markets stocks have been on a tear in 2017. The Emerging Market ETF on its own is up over 25%. Many see this as a benefit from increased risk appetite. And that probably has something to do with the performance. But is it still a good time to get involved in Emerging Markets by adding to your portfolio? Let's look.
The chart below shows the last 2 years of price action in the Emerging Market ETF. Notice the big run from the beginning of 2016 through to August that year. It paused and then pulled back into the end of the year. And what has happened in 2017? Another big run from January through August. Will it pause for the rest of the year again? There are some differences this time. While momentum measured by the MACD looks similar, at a high level and crossed down and falling, the RSI is much stronger. Note that the string of lows in 2017 have held in the bullish range, over 40 each time. This is one key to watch.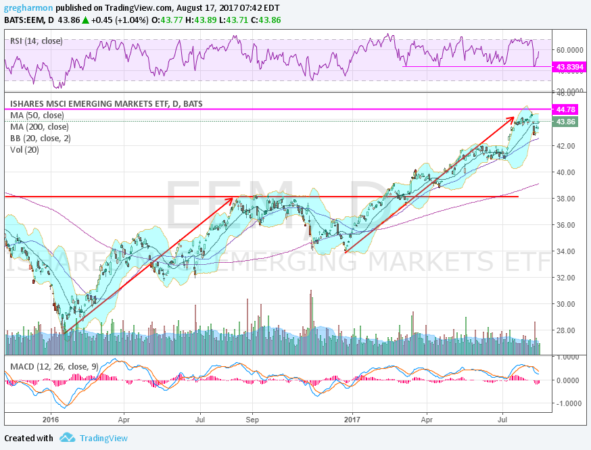 Also notice that the move higher in 2016 has been matched almost exactly in the 2017 move. This will have many who have rode the wave higher looking to cash out. The resistance line at the top of the chart may also carry some weight in the decision. It roughly represents the top of a range that held from 2011 through 2015, before the ETF moved lower. It may be a tough coconut to crack. The run in Emerging Markets may not be over yet, but there are signs it may stall.
One the other side of the argument, there are not really many signals that it will fall. If you are long the ETF no reason to sell until that RSI cracks and the price breaks below the 50 day SMA. If you are on the sidelines though it may be best to just watch. A push over the top resistance would be your indication of renewed strength.
Gregory W. Harmon CMT, CFA, has traded since 1986 and held senior positions including Head of Global Trading, Head of Product Development, Head of Strategy and Director of Equity. (More)

Recent Posts

Archives

Dragonfly Capital Updates