Posted by Greg Harmon on November 23rd, 2014 at 4:17 pm
Here are the Rest of the Top 10:
Citigroup, Ticker: $C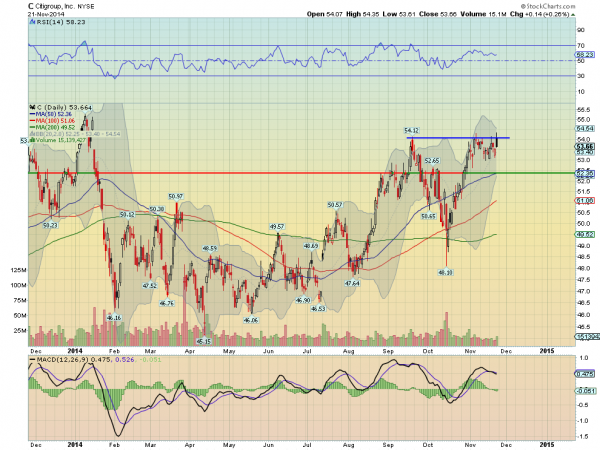 Citigroup, $C, has been rounding out of a bottoming pattern since May. It is reached 54.12 in September before the market sell off and is now consolidating under that resistance again. The RSI is in the bullish zone but moving lower along with the MACD.
Norfolk Southern, Ticker: $NSC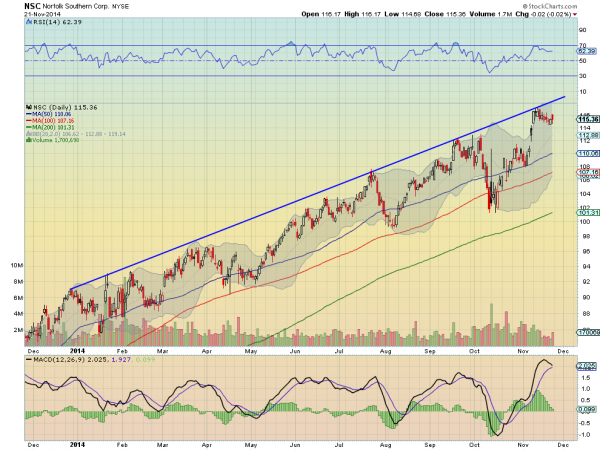 Norfolk Southern, $NSC, has been trending higher all year. Since a visit at the 100 day SMA in mid October at the market bottom, it has moved higher in two legs and is currently in a bull flag. The RSI is in the bullish zone and the MACD is pulling back, but has not yet crossed.
Starbucks, Ticker: $SBUX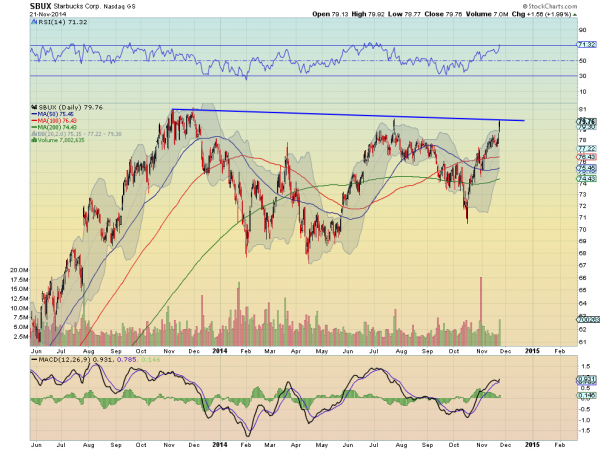 Starbucks, $SBUX, is at trend resistance for the third time and coming from a higher low. The RSI is bullish and the MACD avoided a cross down and turned back higher Friday.
State Street, Ticker: $STT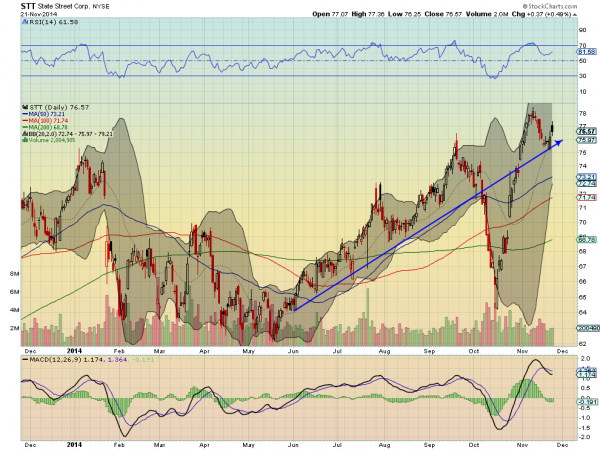 State Street, $STT, has been trending higher since May, outside of that little 'V' shaped dip in October. In fact stick your thumb over the dip and you do not even notice a break. Friday it started higher again with a RSI that turned back up after holding strongly in the bullish zone and a MACD that is leveling after a pullback.
Toyota Motor, Ticker: $TM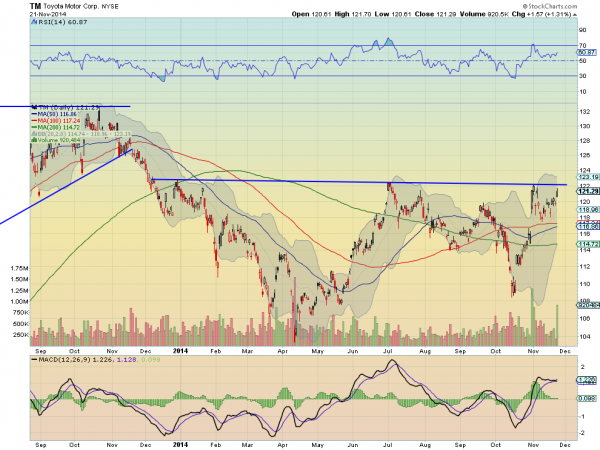 Toyota Motor, $TM, is also at trend resistance. It arrives from a third higher low. The RSI is in the bullish zone and drifting up while the MACD avoided a cross down and is now flat.
Up Next: Bonus Idea
If you like what you see sign up for more ideas and deeper analysis using the Get Premium button above.
After reviewing over 1,000 charts, I have found some good setups for the week. These were selected and should be viewed in the context of the broad Market Macro picture reviewed Friday which, heading into the shortened Thanksgiving Holiday week sees the equity markets looking solid longer term but a bit stretched in the short term. Elsewhere markets all are looking better to the upside. Look for Gold to continue the bounce higher while Crude Oil may join it as it is also biased to the upside short term. The US Dollar Index looks ready to resume its uptrend while US Treasuries round out of a short term pullback and continue up as well. The Shanghai Composite looks to continue its uptrend and Emerging Markets may also be reversing higher. Volatility looks to remain subdued keeping the bias higher for the equity index ETF's SPY, IWM and QQQ. Their charts continue to show divergence as the SPY and QQQ look higher in the intermediate term while the IWM continues sideways in a range. All three look at risk of a short term pullback this week, even if only Monday. Use this information as you prepare for the coming week and trad'em well.
Get my book, Trading Options: Using Technical Analysis to Design Winning Options Trades.
Gregory W. Harmon CMT, CFA, has traded in the Securities markets since 1986. He has held senior positions including Head of Global Trading, Head of Product Development, Head of Strategy and Director of Equity. (More)

Recent Posts

Archives