Every month following Options Expiration I post performance metrics of the Dragonfly capital Model Portfolio. This includes all trades that I entered over time. What it does not include is the one's I miss for whatever reason (getting lunch, going to the bathroom, etc….). So as I enter my 6th year in this blogoshpere adventure I am adding a new twist. Each week I will post the performance of the stocks that were given to subscribers the previous Sunday plus the Bonus idea from Monday pre-market. Here is this week's: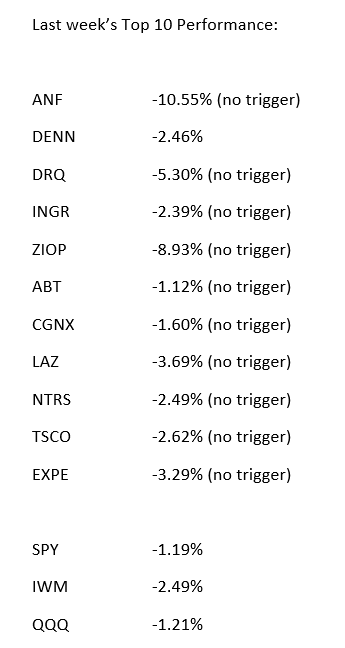 Short position performance is calculated opposite of security movement. If the security is labeled no trigger then our trade plan would not have executed a trade, i.e., you would have had no position.
Get my ebook, Markets for 2015 and Beyond, a long term forecast with all proceeds going to charity.
Want to learn more about Dragonfly Capital Views?
Dragonfly Capital Views Performance Through June 2015 Expiry and sign up here
Gregory W. Harmon CMT, CFA, has traded in the Securities markets since 1986. He has held senior positions including Head of Global Trading, Head of Product Development, Head of Strategy and Director of Equity. (More)

Recent Posts

Archives