Posted by Greg Harmon on September 18th, 2014 at 2:28 pm
It's late in the week, and we have already gotten through the Federal Reserve Open Market Statement, with Alibaba and Scotland votes on tap. Time for a beer. Specifically a Craft Brewers Alliance, $BREW. Not to drink, you still need a clear head for the rest of the week and Option Expiration, but to add to your portfolio.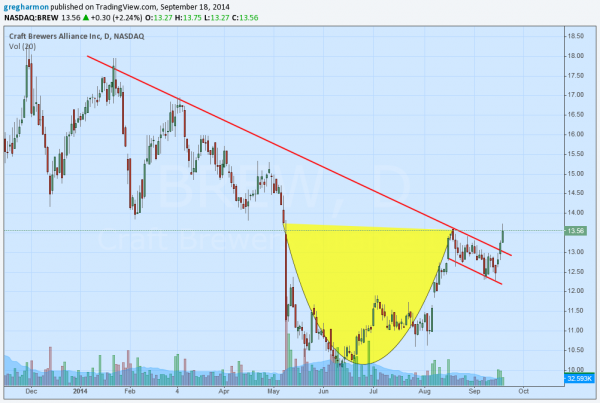 The chart above tells why. After a long downtrend this year capped by the falling red resistance line, the stock price is now breaking to the upside. Additionally there is a Cup and Handle pattern triggering as the price moves over the most recent prior high level at 13.57. This gives a target to the upside at 17.07, near the start of that red line. That sounds good as it is. But with a little imagination you can see that a move over 15 the late April high would make for another big Cup and Handle, maybe a Pint and Handle that would target 20. Cheers!
Get my book, Trading Options: Using Technical Analysis to Design Winning Options Trades.
____________________________________________________________________________________________________
Want to learn more about Dragonfly Capital Views?
Dragonfly Capital Views Performance Through August 2014 Expiry and sign up here
Gregory W. Harmon CMT, CFA, has traded in the Securities markets since 1986. He has held senior positions including Head of Global Trading, Head of Product Development, Head of Strategy and Director of Equity. (More)

Recent Posts

Archives