Here are the Rest of the Top 10:
Cullen/Frost Bankers, Ticker: $CFR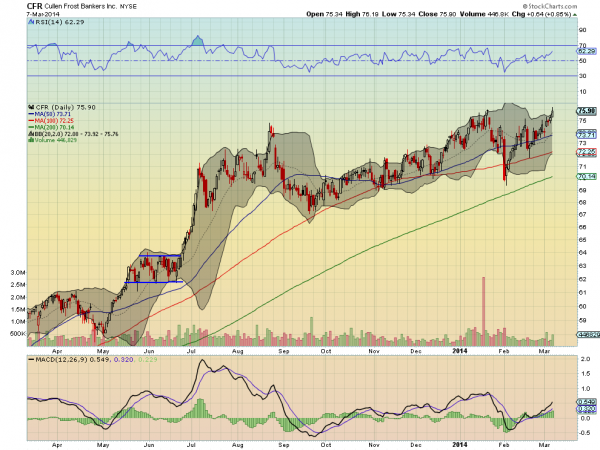 Cullen/Frost Bankers, $CFR, reached prior resistance Friday. The move higher seems to be carrying some momentum as the Relative Strength Index (RSI) and MACD are also rising, supporting more upside.
Diamond Offshore Drilling, Ticker: $DO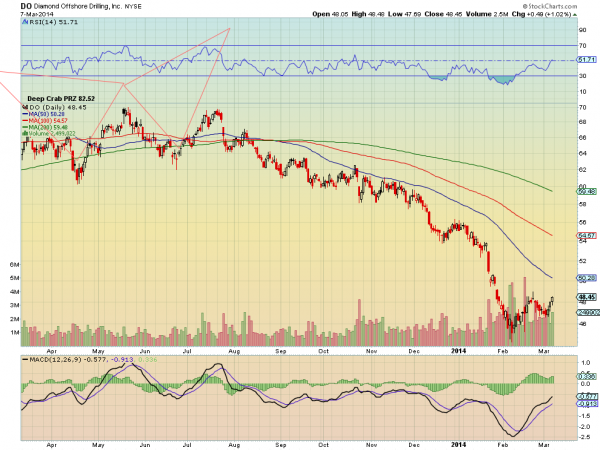 Diamond Offshore Drilling, $DO, had been collapsing since July before finding a bottom to start February. The higher low last week makes it attractive as it reaches prior resistance.
Emerson Electric, Ticker: $EMR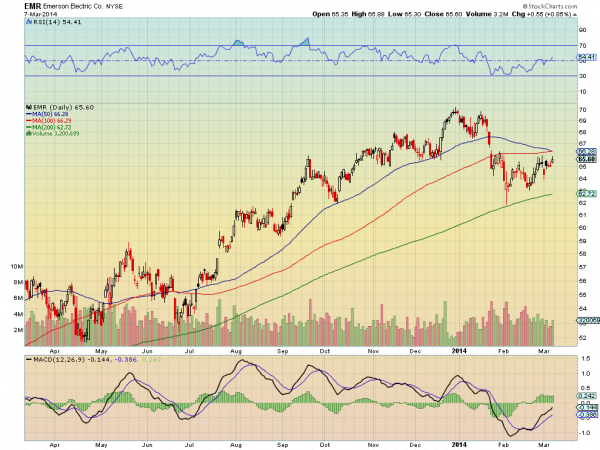 Emerson Electric, $EMR, has made a series of higher lows as it reaches resistance again. a positive sign with support from the rising RSI and MACD.
Stericycle, Ticker: $SRCL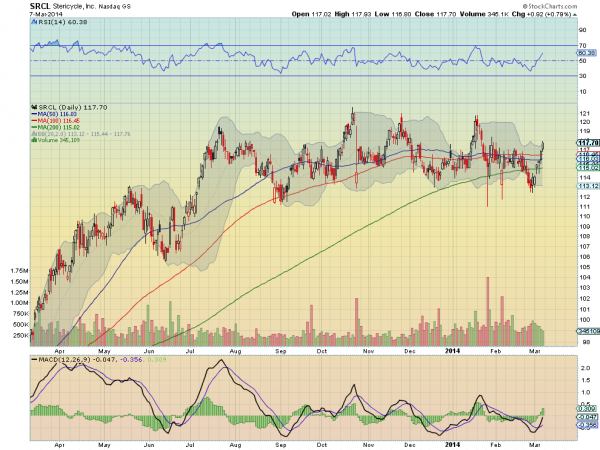 Stericycle, $SRCL, blew through the confluence of Simple Moving Averages (SMA) last week. It has support for more upside from the rising RSI and MACD.
TearLab, Ticker: $TEAR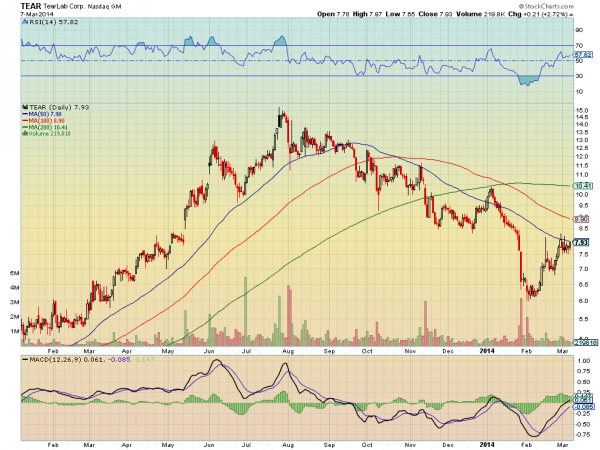 TearLab, $TEAR, is consolidating under the 50 day SMA and perhaps starting to break higher. It also has support for more upside from the rising RSI and MACD. With 22% short interest it could also benefit from a short squeeze.
Up Next: Bonus Idea
If you like what you see sign up for more ideas and deeper analysis using the Get Premium button above. As always you can see details of individual charts and more on my StockTwits feed and on chartly.
After reviewing over 1,000 charts, I have found some good setups for the week. These were selected and should be viewed in the context of the broad Market Macro picture reviewed Friday which, heading into the next week sees the equity markets looking positive. Elsewhere look for Gold to consolidate with an upward bias while Crude Oil remains on the short term upward path. The US Dollar Index looks weak and ready to move lower while US Treasuries are also biased lower in their consolidation zone. The Shanghai Composite and Emerging Markets are set up to continue their consolidations from this week with Emerging Markets holding an upward bias. Volatility looks to remain subdued keeping the bias higher for the equity index ETF's SPY, IWM and QQQ. Their charts favor the upside as well, fairly strongly in the SPY and IWM and less so in the QQQ, with all at risk for a very short term intra-week pullback. Use this information as you prepare for the coming week and trad'em well.
____________________________________________________________________________________________________
Dragonfly Capital Views Book Launch Celebration
For a limited time the Opportunity to join the Dragonfly Capital Views Premium Membership on an Annual basis is available for only $618.
This special Fibonacci rate (1000 divided by Φ) will be around for a limited time. Don't miss this opportunity to join or upgrade! Sign up here. As part of this celebration, the first 25 annual subscriptions will also get the book*.
Want to learn more about Dragonfly Capital Views?
Dragonfly Capital Views Performance Through February 2014 Expiry and sign up here for the free 7 day trial before you pay.
Get my book, Trading Options: Using Technical Analysis to Design Winning Options Trades from Amazon.
*book will be sent after payment is processed. It will also require you to send me your address for delivery.
Gregory W. Harmon CMT, CFA, has traded in the Securities markets since 1986. He has held senior positions including Head of Global Trading, Head of Product Development, Head of Strategy and Director of Equity. (More)

Dragonfly Capital Updates

Recent Posts

Archives