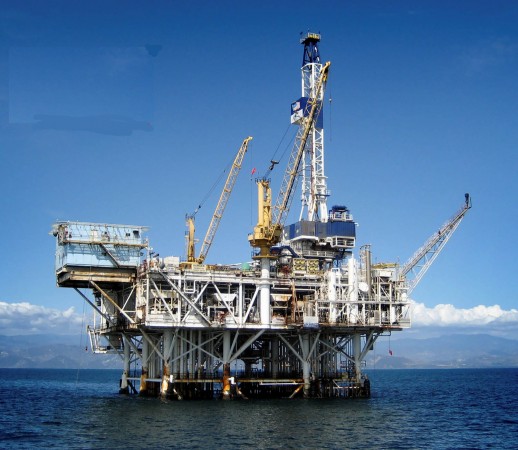 Baker Hughes ($BHI) watches the oil sector closely. They service a ton of offshore oil rigs with parts analytics and what not. So they know what is going on. They also put out a count of active rigs on a weekly basis. That count fell off of a cliff recently, but has started to slow as of their last measure. Perhaps a right sizing has occurred.
But perhaps more interesting to me is what is going on with Baker Hughes stock price. The chart below shows the price action since October 2014. There are a few things that stand out.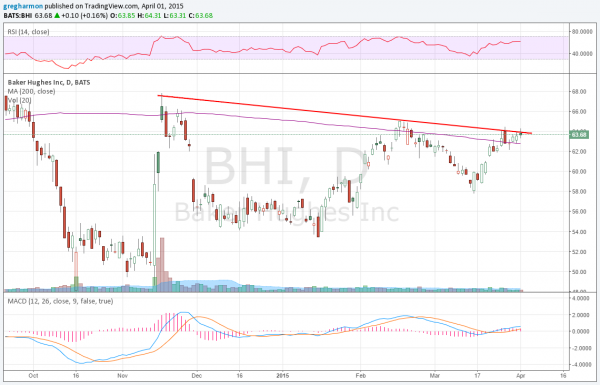 First, notice the falling trend resistance. It has been in place since mid November. Touching it for the third time, it is from a series of higher lows. But it is also stalling about the same distance above the 200 day SMA each time. This is what I find most interesting. From early 2013 the price had been above the 200 day SMA, except for a few minor breaks underneath. And when it was above it the price moved from around 45 to 75. It likes to go higher when above the 200 day SMA.
So the key seems to be a hold above the 200 day SMA. Could this be the time it does so? The momentum indicators are on board. Both are bullish and rising. What would give it a real kick would be a move over the February high at 65.
Get my new ebook, Markets for 2015 and Beyond, a long term forecast with all proceeds going to charity.
Want to learn more about Dragonfly Capital Views?
Dragonfly Capital Views Performance Through March 2015 Expiry and sign up here
Gregory W. Harmon CMT, CFA, has traded in the Securities markets since 1986. He has held senior positions including Head of Global Trading, Head of Product Development, Head of Strategy and Director of Equity. (More)

Recent Posts

Archives