US Steel, $X, stock was trading in a flat base 3 years until it broke higher a few weeks ago. I have been taking about the possibility for letter X since October last year and now it has finally moved. So why am I short it?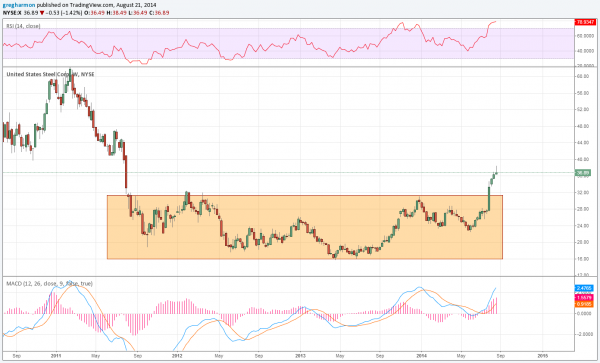 The chart above shows the movement since 2011. Te break above the box and then 3 smaller candles of follow through look good until this week. The candle that is building for this week is a potential reversal candle. The long upper shadow shows how the price action had moved higher but met selling pressure and fell back. If this candle holds up for the week it could be a bearish signal. Having missed the entry signal (yes traders do miss them, and some admit it), I have been looking for a chance to enter. I do not like to chance the price higher so a pullback is what I am looking for. This might be the chance. I put on a September 12 Expiry 36/33 Put Spread, buying the September 12 Expiry 36 Put and selling the 33 Strike Put. That along does not give me an entry but will profit if the stock does reverse lower. But I also sold a September 20 Expiry 33 Put. This added piece exposes me to owning the stock if it closes under 33 on September 20. If it corrects lower over the next three weeks (or less) the Put Spread will gain in value and a close at 33 or lower on September 12 Expiration will give me $3. If it then bounces I can buy the stock and have a basis $3 below the price. If it holds there for another week I will be put the stock on September 20 Expiration and own it with a basis of 30, right about where I missed the breakout. My cost for the trade was 35 cents or 15 of the price. Lets see what happens.
Get my book, Trading Options: Using Technical Analysis to Design Winning Options Trades.
____________________________________________________________________________________________________
Want to learn more about Dragonfly Capital Views?
Dragonfly Capital Views Performance Through August 2014 Expiry and sign up here
Gregory W. Harmon CMT, CFA, has traded in the Securities markets since 1986. He has held senior positions including Head of Global Trading, Head of Product Development, Head of Strategy and Director of Equity. (More)

Recent Posts

Archives