The Chinese market has been gaining attention lately. The Shanghai Composite broke a range and has been rocketing higher the past week, but the China ETF, $FXI, has been running hot since early May. And what about the S&P 500? It has periodically made new higher highs but over the past month is moving slowly and drifting higher. Many think a correction is coming soon. Maybe it will maybe it wont.
But with a big shift in China and leveling at least in the US one tend has not changed at all for 5 years. The Ratio of the Chinese Market to the S&P 500 has been in a downtrend since July 2009. Think about how much has happened over that time frame. Wars, ethnic uprisings, currency crises, default threats. At least 2 or each! and look at the ratio chart below. It just keeps going lower. Flows from China to the US. Yes it is in an upswing at the moment, but it has a lot of room before it challenges the top of the falling channel.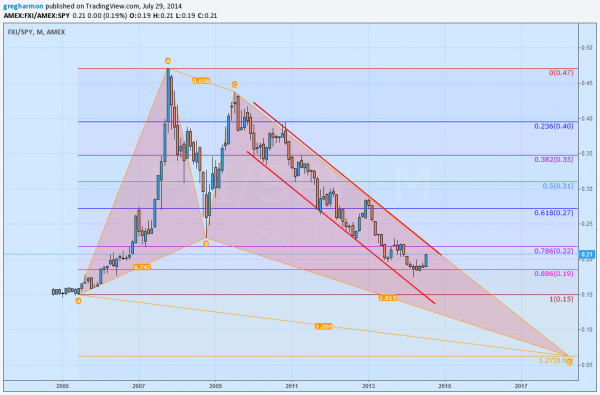 Fibonacci aficionados will notice that the channel has retraced 88.6% of the move higher. So a reversal could come. But many would expect a continuation towards a full retracement. Harmonic traders will see a Bullish Butterfly playing out. But that pattern looks for a continuation lower to the bottom of the triangle before reversing.
You don't have to believe in Fibonacci's or Harmonics. But you cannot ignore that the trend lower, from China to the US, remains unchallenged. Until that changes there is really no reason for you to look to move assets out of the US to bet on a Chinese Market recovery.
Get my book, Trading Options: Using Technical Analysis to Design Winning Options Trades.
____________________________________________________________________________________________________
Want to learn more about Dragonfly Capital Views?
Dragonfly Capital Views Performance Through July 2014 Expiry and sign up here
Gregory W. Harmon CMT, CFA, has traded in the Securities markets since 1986. He has held senior positions including Head of Global Trading, Head of Product Development, Head of Strategy and Director of Equity. (More)

Recent Posts

Archives