Posted by Greg Harmon on May 20th, 2013 at 4:53 pm
Comments: 0
One name in the Oil and Gas services sector gave a clue that a turn around higher was coming, Halliburton, $HAL. Back in late April it broke the bullish flag higher and has not looked back. Are you too late? No. The target on a AB=CD brings it to 50.93. That is more than 11% higher from the close. But quite often these extend to CD = 127% of AB or even 168% of AB. This gives a target higher to 54.75, near the target from a Measured Move out of the flag, or even 59.68. Midway from a breakout some may find the reward to risk unfavorable. But this can be handled by using options. Harmonics gives an estimate of mid July for 'D' to print. So one way to play it is to buy the July 46 Call for $1.62, where it was offered near the
Halliburton, $HAL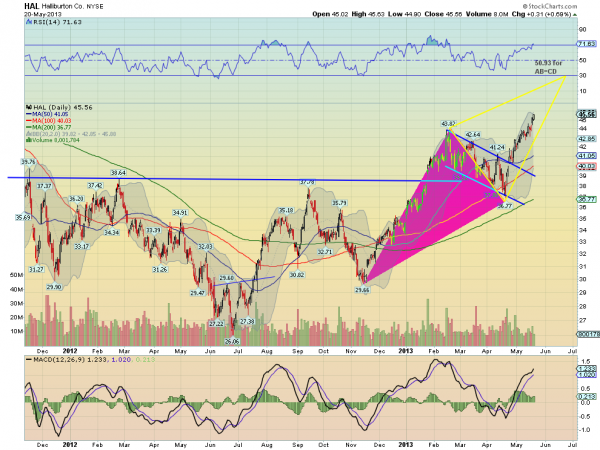 close Monday, 3.5% of the cost of buying the stock. It also has 9 weeks to play out, plenty of time. If that is too much though you can plan to reduce the cost by selling some options against it. Selling the July 40 Puts for 37 cents, brings it down less than 3%, but opens you up to owning the stock on a close under 40 on July Expiry. You can cut off another 21 cents by also selling the May weekly 46.50 Calls, for a Calendar Spread. This is the same structure that we traded for clients in ExxonMobil today, $XOM, with a June/October 95 Call Calendar and short an October 85 Put. This can still be traded in $XOM, and the Exxon trade was easier to start as it just broke a long channel today, but the Halliburton trade shows a better example of how to play a stock that is running. Minimize your capital at risk and if selling naked options do it at a level where the stock is a good buy. Good Luck!
Want to learn more about Dragonfly Capital Views?
Dragonfly Capital Views Performance Through May 2013 Expiry and sign up here.
Gregory W. Harmon CMT, CFA, has traded in the Securities markets since 1986. He has held senior positions including Head of Global Trading, Head of Product Development, Head of Strategy and Director of Equity. (More)

Dragonfly Capital Updates

Recent Posts

Archives