Posted by Greg Harmon on May 23rd, 2013 at 3:01 pm
Comments: 0
Since it is a long weekend I thought I would put out the daily afternoon idea in time to trade Thursday, so you can take an extra long weekend. In fact you have to trade this before the close to capture the catalyst. Salesforce.com, $CRM, had been moving higher off of a base around 41 until it met the prior high at 47 a few days ago. The pullback began and cascaded with the market pullback Thursday mornings. Opening on the 50/100 day Simple Moving Average (SMA) cross, it has rebounded strongly into the earnings report tonight, closing the opening gap down. The Relative Strength Index (RSI) is in bullish territory but pulling back from a technically overbought condition with a Moving Average Convergence Divergence (MACD) indicator starting to rollover, giving a short term bias to a pullback. Support lower comes at 45, 42 and 40.70 followed by 39 and 35. There is no resistance higher above the top at 47.58. The reaction to the last 6 earnings reports has been a move of about 7.82% on average or $3.60 making for an expected range of 42 to 49.30. The at-the money May weekly Straddles suggest a similar $3.40 move by Expiry Friday with Implied Volatility at 170% well above the June at 45%. Short interest is elevated but not very high at about 9%. Traders were buying the June 35 Put/July 39 Put combo for a 50c credit and the June 43.75/45 Bullish Risk Reversal through out the day, at much cheaper levels earlier.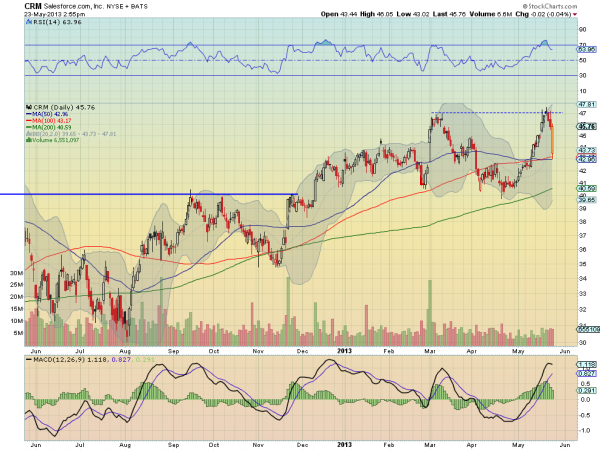 Trade Idea 1: Buy the June 43.75/45 bullish Risk Reversal for $1.30.
Trade Idea 2: Buy the June 43.75/47.5 bullish Risk Reversal for $0.28.
Trade Idea 3: Buy the May/June 47.5 Call Calendar for $0.68.
Trade Idea 4: Sell the June 40 Puts for a $0.45 credit.
Trade Idea 5: Sell the May/June 40 Put Calendar for a $0.30 credit.
I like #2 standing alone or #3 paired with #5
Want to learn more about Dragonfly Capital Views?
Dragonfly Capital Views Performance Through May 2013 Expiry and sign up here.
Gregory W. Harmon CMT, CFA, has traded in the Securities markets since 1986. He has held senior positions including Head of Global Trading, Head of Product Development, Head of Strategy and Director of Equity. (More)

Dragonfly Capital Updates

Recent Posts

Archives