Momentum and the Markets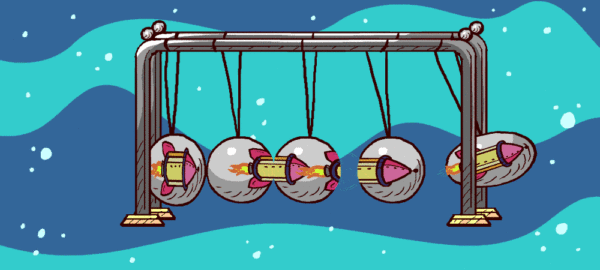 The US Equity markets took off like a rocket ship to the upside after the election in November. For 4 weeks they rose into mid-December. But then they cooled off. Almost as if they were out of breath and needed a rest. After catching their breath, they then went back to running again in the New Year. This may seem like an anthropomorphic assignment to the markets, but to a technician it is not far off of what happened.
While most investors and traders look at price action alone or fundamentals, a technician will dig under the surface. On of the tools we use is momentum. This price derivative can add a lot to the story since the election. The chart below shows one measure of momentum, the Relative Strength Index, RSI. This oscillator ranges from zero to 100, hence the index, and uses the average gain on up days against the average loss on down days over a period of time to create the index.
Momentum is generally considered hot, or overbought, when the RSI is over 70 and oversold when under 30. Overbought and oversold considerations are expected to eventually dissipate. Think of this as accelerating to you top 100 yard dash speed (overbought) and then running out of gas and needing to slow down (dissipate).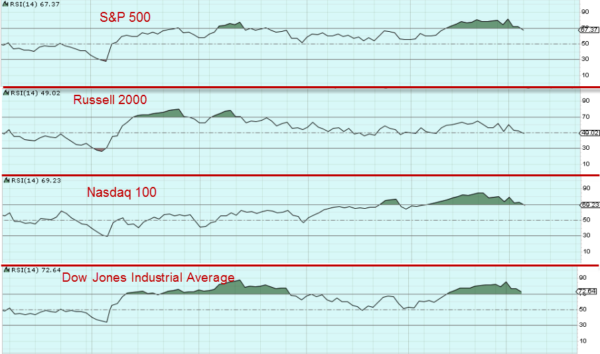 So what does this chart tell us then? First, even without dates it is clear where the election is in this chart. The low mark, and oversold on some indexes, marks the event. And you can see the leap in momentum in all 4 indexes. Remember then that the Russell 200 and the Dow Jones Industrials were the strongest at first. This shows up in momentum as well with both moving to overbought conditions quickly. Note also that the overbought condition can last for some time. For the Dow it lasted nearly 2 months!
The Nasdaq 100, that had a long steady run higher, did not move into an overbought condition until the end of January. It did not get tired, quickly, more or a marathon runners pace. And once the Russell 2000 worked off the overbought condition it held bullish, over the mid line, where it remains.
The big question now with the S&P 500, Nasdaq 100, and Dow all in overbought territory has been how will they work off this condition. There are three ways this can happen: through time, through a price correction, or a combination. The shallow pullback over the last 4 days has done a lot to relieve it already. What were readings in the high 80's and near 90 for the Nasdaq 100, have now all moved back to the high 60's and low 70's.
The market does not need a long deep correction here to reset momentum for the next leg. This could be enough. But as momentum is waning it is time to watch the indexes, not add to positions. An eventual hold (at least over 50) and reversal is time for the next round of buying. Until then rest up with a glass of water.
If you like what you see above sign up for deeper analysis and trading strategy by using the Get Premium button above. As always you can see details of individual charts and more on my StockTwits page.
The information in this blog post represents my own opinions and does not contain a recommendation for any particular security or investment. I or my affiliates may hold positions or other interests in securities mentioned in the Blog, please see my Disclaimer page for my full disclaimer.
blog comments powered by

Disqus
Gregory W. Harmon CMT, CFA, has traded since 1986 and held senior positions including Head of Global Trading, Head of Product Development, Head of Strategy and Director of Equity. (More)