4 trades for earnings to pay for your morning at Dunkin' Donuts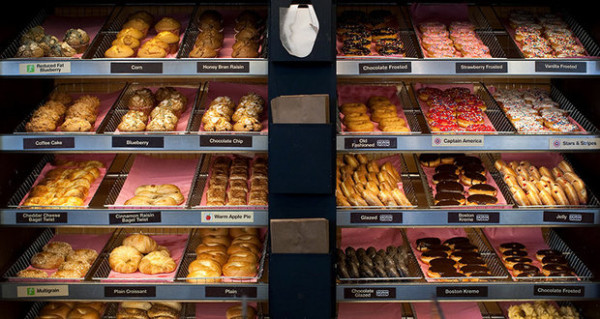 The FOMC did not disappoint. They kept rates steady for another meeting. It only took the financial news outlets about 5 minutes to shift their wall of worry out to the June meeting. Why so long? Were they out getting a coffee and donut? Or maybe they were putting on a trade for Dunkin' Brands earnings in the morning.
Probably not, but the chart does warrant a closer review into the print. It has built a Shark harmonic pattern. The Shark looks for a possible reversal at the "D" point at 54.75. That is nearly 20% higher. The momentum is bullish despite the sideways price action the last 3 weeks. The RSI is in the bullish zone and the MACD flat and positive. The squeeze in the Bollinger Bands® confirms the stock is prepped for the catalyst to come.
The stock printed a Golden Cross 2 weeks ago and has now been over its 200 day SMA for over a month. There is resistance higher at 48.80 and 50 followed by 52 and 52.80 before 54.25 and 55.30. Support lower stands at 47.30 and 46.15 followed by 45 and 43.40. Short interest is high at 14.9%, and following the last 6 earnings reports the stock has moved an average of 4.90%, or $2.35 at today's price.
The options market is pricing in a $3.15 move by expiry May 20th and has only slightly elevated implied volatility at 32% in May above the June at 26%. Open interest in May is biggest at the 47.5 Strike on the Put side with some size at the 45 and 50 Puts as well. On the call side it is smaller but focused at 47.5 and 50. There were 2 big blocks of 500 each of May 47.5/50 Call Spreads traded today for just under $1.00, very close to the offer side. The volume on these was less than the open interest so they could be closing, either way it signals bullish price action or bullish worry.
Trade Idea 1: Buy the May 47.5/50 Call Spread for $1.10.
Trade Idea 2: Buy the May 47.5/50/52.5 Call Butterfly for 75 cents.
Trade Idea 3: Buy the May 47.5/50 Call Spread and sell the May 45 Put for 45 cents.
Trade Idea 4: Sell the May 45/50 Strangle for $1.30 credit.
The first trade is positioned for upside movement and limited a $2.50 maximum payout, for a 2.27:1 reward to risk ratio. The second is a variation that looks for the price to stall at 50 on a move higher. It is profitable at expiry on a close between 48.25 and 51.75. The third adds leverage to the first trade and a possible entry at 45 to the stock. The last trade is profitable on a close between 43.70 and 51.30 at Expiry.
How great would it be to be able to walk into Dunkin' Donuts in the morning to buy a coffee and donut with your winnings from an earnings trade on the stock.
This is the exact type of analysis given to Premium Users on earnings trades every day.
Dragonfly Capital Views Performance Through April 2016 and sign up here
If you like what you see above sign up for deeper analysis and trading strategy by using the Get Premium button above. As always you can see details of individual charts and more on my StockTwits page.
The information in this blog post represents my own opinions and does not contain a recommendation for any particular security or investment. I or my affiliates may hold positions or other interests in securities mentioned in the Blog, please see my Disclaimer page for my full disclaimer.
blog comments powered by

Disqus
Gregory W. Harmon CMT, CFA, has traded since 1986 and held senior positions including Head of Global Trading, Head of Product Development, Head of Strategy and Director of Equity. (More)