Is That All She's Got?
Over the last few years I have been bullish on the broad market. I am sure that there are many that discount me as a perma-bull. I can live with that but it is a misnomer. You see perma-bulls and perma-bears will maintain their stance in the face of concrete evidence that contradicts their view. So I would not call myself a perma-bull just because I have been bullish on the market, since the market has in fact been rising. Is it wrong to be bullish in a rising market?
But what if we are at a top, is it time to switch to being bearish? No. Unless you are a day trader then one down day, even a Key Reversal Day, does not change a trend. You can lighten up your positions, or tighten your stops, or add collars for protection. But if you are adding short positions that is pure gambling for a trend reversal, no matter who you are.
And what about that Key Reversal Day? For the major indexes, the Russell 2000 was the only one that was actually down more than 1%. Maybe we should add some size of the reversal criteria to a Key Reversal Day.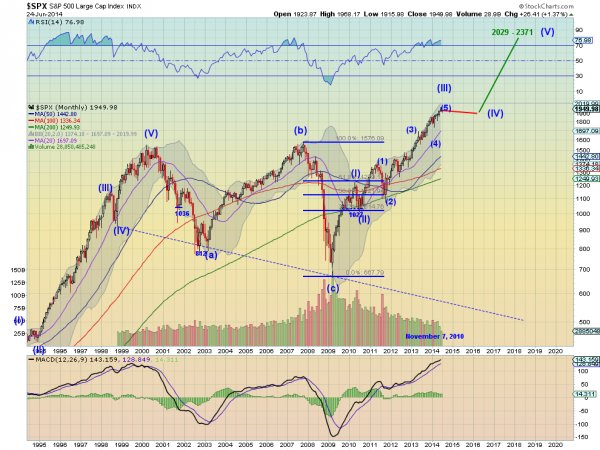 I have been using the chart above as a guide for the S&P 500 for the last 3 and 1/2 years. It has not steered me wrong yet. And it does not suggest a pullback. You may notice that I updated it this month as the S&P 500 had hit a possible reversal target at 1923. But I also revised it to more accurately reflect Elliott Wave Principles. With the move from (I) to (II) being down the move from (III) to (IV) should be flat, like the red line. But does it say that the market has topped? Maybe. This phase does not have to last for 2 years or even 6 months, but it could. And right now it looks more like the path after any sideways motion should be to continue higher. But all that assumes that the top is in for the short term. That is a lot of pressure to place on one days price action.
In practical terms though, even if the top is in, stocks will still take there own path either higher or lower, but in general the total path would be sideways. So if you own the right stocks or have held them long enough this is not the time to sell. If your stocks are hitting a stop loss then by all means sell them.
So is that all the market has to give to the upside? I do not think so, but if it is I will change my view. Until then the major trend remains higher and I will remain long my stocks.
Get my book, Trading Options: Using Technical Analysis to Design Winning Options Trades.
____________________________________________________________________________________________________
Want to learn more about Dragonfly Capital Views?
Dragonfly Capital Views Performance Through June 2014 Expiry and sign up here
If you like what you see above sign up for deeper analysis and trading strategy by using the Get Premium button above. As always you can see details of individual charts and more on my StockTwits page.
The information in this blog post represents my own opinions and does not contain a recommendation for any particular security or investment. I or my affiliates may hold positions or other interests in securities mentioned in the Blog, please see my Disclaimer page for my full disclaimer.
blog comments powered by

Disqus
Gregory W. Harmon CMT, CFA, has traded in the Securities markets since 1986. He has held senior positions including Head of Global Trading, Head of Product Development, Head of Strategy and Director of Equity. (More)

Recent Posts

Archives