A Long Entry into ExxonMobil
And I am talking long in both senses of the word. Back in August I saw interesting price action in ExonnMobil, $XOM, and discussed it in Exxon Mobil Set to Become a $500 Billion Company. The breakout did come on September 6th (I missed it – probably getting lunch or something) and it settled a few days later. Without any stock I took to planning an entry. This would happen at either a breakout of the consolidation or a retest and hold lower. I was presented with the latter as it started falling in mid October. A potential bottom hit on November 15th (#1 on the chart below). It was noted by the doji candle that touched the 200 day Simple Moving Average. I chose to employ an options strategy for an entry. The strategy I used is known as selling a naked put or a cash secured put. In this strategy you sell a put naked at a strike price where, combined with the premium you receive from selling that put, you are comfortable owning the stock. Expecting a move back higher I sold to open December 87.50 Puts for $2.71. A close below 87.50 on December 22 expiry would end up with me owning the stock with a basis of 84.79 (87.50 less the 2.71 premium), below the level at the time. Of course that would not be such a good level if the stock continued lower to 80. Time went by and then into the December Expiry week I was presented with an option.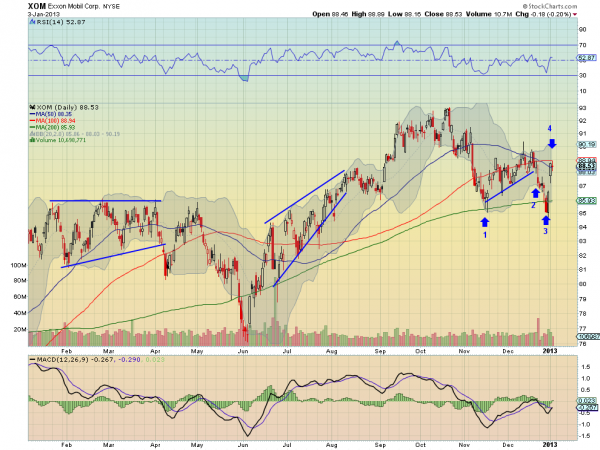 Face assignment or roll the puts out for more time. On December 22nd, rather than take assignment I bought the December 87.5 Puts back for 35 cents and sold to open the weekly December 28 Expiry 87.5 Puts for 98c, lowering my potential basis to 84.16 (#2), if I were to be assigned the following week. The stock continued lower into December 28th with all the mumbo-jumbo on the fiscal cliff, so with the same option , assignment or roll, I elected to give it another week. This time I bought to close the December 28 Expiry 87.5 Strike Puts and sold to open the January 4 Expiry 87.50 Strike Puts for a credit of 28 cents (#3), lowering the basis again to 83.88. Which brings us to today. With the prospect of the January 4 Expiry Puts expiring worthless tomorrow, my choice is to book the $3.62 gain since November 15th or rollout again (#4). I chose more time again, buying to close the January 4 Expiry Puts and selling the January monthly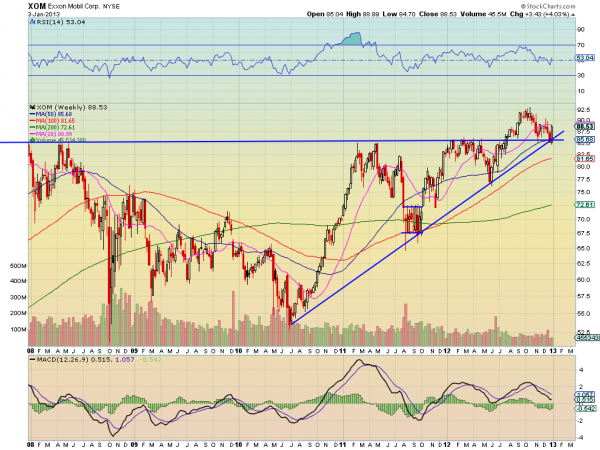 87.5 Puts for a further 45 cent credit, dropping the basis again to 83.43. I will eventually take assignment on this stock, but might still roll it one or two more times, before the next ex-dividend date. I like that it continues to hold over the long term breakout level at 85.60 on the weekly chart. In the meantime I am holding a 4.6% gain, that if it stands up over the next two weeks annualizes to 27.6%. In ExxonMobil.
Join the Dragonfly Capital Views Premium Membership
Sign up here to get deeper analysis and nearly 50 trade ideas every week.
Dragonfly Capital Views Performance Through December 2012 Expiry
If you like what you see above sign up for deeper analysis and trading strategy by using the Get Premium button above. As always you can see details of individual charts and more on my StockTwits page.
The information in this blog post represents my own opinions and does not contain a recommendation for any particular security or investment. I or my affiliates may hold positions or other interests in securities mentioned in the Blog, please see my Disclaimer page for my full disclaimer.
blog comments powered by

Disqus
Gregory W. Harmon CMT, CFA, has traded in the Securities markets since 1986. He has held senior positions including Head of Global Trading, Head of Product Development, Head of Strategy and Director of Equity. (More)

Recent Posts

Archives