Getting Out at the Correct Stop
Last Spring I wrote a series of articles about some of the things I think about and the factors that go into my trading. The four articles are below. But it was pointed out to me that I have not delved that deeply into how to pick the proper stop loss level. Let me try to do that here.
Stop placement takes on different meanings to different people. And that makes sense. At the end of the day though it is about selection and then management. Traders use different tools to determine which set ups are the most likely to trigger and have the best potential for profit. They will also use those same tools to determine where to place a stop loss. Let me illustrate with the chart of VirnetX Holdings, $VHC, below.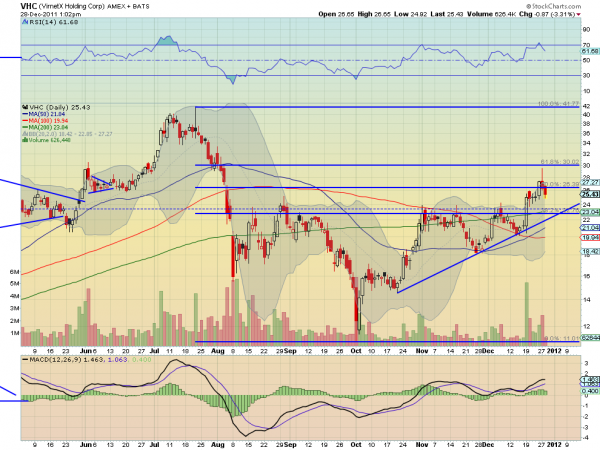 This stock has been trending higher since October and many have taken the recent break over 23.50 as a trigger to enter long. But there were other triggers too. A move back over the 200 day Simple Moving Average (SMA), a break above the 38.2% Fibonacci level, or a hold of the rising trendline support to name a few. So traders may use 23.50 as a stop, or a break below the 200 day SMA, or a fall back below the 38.2% Fibonacci or even the rising trend line support. Each of these defines a specific change in character in the stock. And this is one way to choose a stop. Everyone is a valid stop if chosen for the right reasons.
Without discussing the merits of entering long $VHC Wednesday at a price of 25.43, each choice of stop placement subjects the trader to a different amount of risk. The four choices above give $1.93, $2.39, $2.67 and $3.18 of downside room before they will trigger. No matter which stop you use, it needs to be paired with your risk tolerance to determine position size and then maximum loss. Another factor to consider is that if everyone is using the same toolkit then they might all end up with the same stop. Consider using the tools to determine a valid stop and then giving it a little extra room.
There are other factors involved in choosing a stop loss besides change in character. Every wonder how to enter a long uptrending stock like McCormick & Co, $MKC, before it fell with the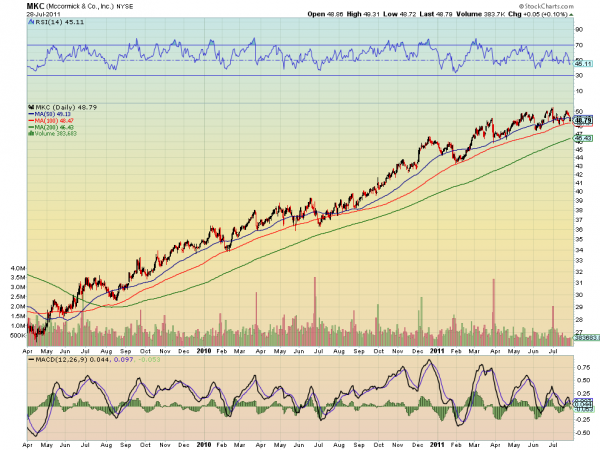 market in August? When there is no solid change of character condition nearby you can choose a stop by reversing the process. Using the maximum loss and desired position size to create a stop loss. For a $40-50 dollar stock in a strong uptrend like you may be willing to risk 3% or $1.2-1.5 per share. Using a trailing stop with a trending stock can account for this and move the stop higher as the stock goes higher, with either a percentage trail or an amount of a trail. Time frame plays a role as well. If you are a long term investor your stop might be wider than that of a swing trader to block out some of the shorter term noise, especially in a trending market.
Time frame is important for stop management as well. As you get closer to your target you may tighten you stop to protect more of the profits you have already gained. This is a good strategy for a short term trader in a volatile market as well. Traders also must be aware of changes in the nature of the stock as they trade. If the stock has moved far from your stop and is basing again it may be time to raise the stop to near the new base. Or if the stock has started a run into clear territory above all time highs, where you have no road map, shifting from a fixed stop to a trialing stop may be appropriate.
If you take away one thing from this article, let it be that a stop loss must be thoughtfully and meaningfully placed and monitored frequently to determine if it is still valid or needs adjusting. Have a great 2012 and trade'm well.
A Methodology for Position Sizing April 1, 2011
Rules Are Not Meant to be Broken March 25, 2011
If You Catch the Knife Don't Trip: Execution Out Matters March 18, 2011
5 Methods of Protecting Profits March 8, 2011
If you like what you see above sign up for deeper analysis and trading strategy by using the Get Premium button above. As always you can see details of individual charts and more on my StockTwits page.
The information in this blog post represents my own opinions and does not contain a recommendation for any particular security or investment. I or my affiliates may hold positions or other interests in securities mentioned in the Blog, please see my Disclaimer page for my full disclaimer.
blog comments powered by

Disqus
Gregory W. Harmon CMT, CFA, has traded in the Securities markets since 1986. He has held senior positions including Head of Global Trading, Head of Product Development, Head of Strategy and Director of Equity. (More)

Dragonfly Capital Updates

Recent Posts

Archives