Top Trade Ideas for the Week of September 12, 2011: The Best
After reviewing over 900 charts, I have found some good setups for the week. This week's list contains the first five below to get you started early. These were selected and should be viewed in the context of the broad Market Macro picture reviewed Saturday which presented the coming week as positive for US Treasuries and the US Dollar Index. Gold looks to continue to be biased higher and Crude Oil lower, but both may also continue in the respective bull and bear flags. The Shanghai Composite and Emerging Markets continue to favor the downside. Volatility looks to remain elevated with a bias towards heading higher. This backdrop suggests favoring a downside bias in the US Equity Index ETF's SPY, IWM, and QQQ. They may continue to hold their bear flags but a big push higher in the US Dollar Index and US Treasuries are likely to push Volatility higher out of its range and lead to the Equity flags breaking lower. Use this information as you prepare for the coming week and trade'm well.
(As always you can see details of individual charts and more on my StockTwits feed and on chartly.)
Here are the first 5 ideas for the week, to get you started:
CF Industries Holdings, Ticker: $CF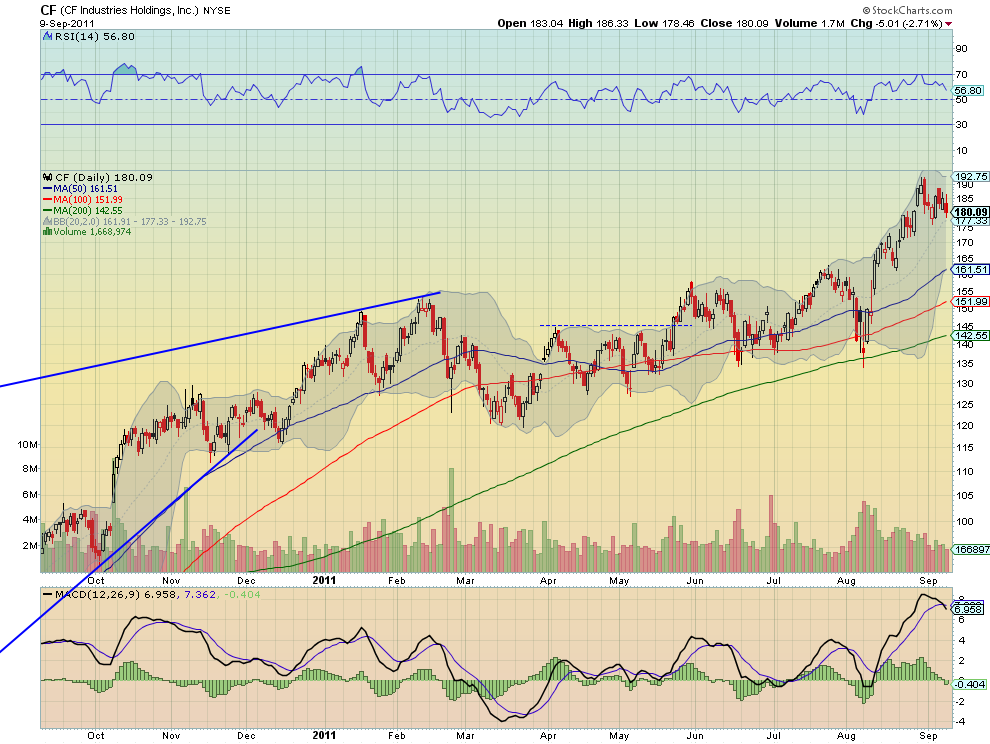 CF Industries Holdings has been a high flier but is starting to look tired. The Relative Strength index (RSI) is rolling lower and the Moving Average Convergence Divergence (MACD) indicator has just crossed negative, both support a downside move. If it falls under support at 178 then there is support lower at 172.8, followed by 170 and then 162. You can simply short this under 178 using a stop at 182.3 looking for the 162 target. Alternatively you can get short exposure by using the October Strike options by buying a Put Spread. Sounds complicated but it is just buying a October 175 Strike Put and selling a October 160 Strike Put for a net debit of $5.15, with upside to $15 is the stock closes under 160 on October Expiry. You could also sell a 145 Strike Put, turning it into a 1×2 Ratio Put Spread, to lower the cost to $2.36. Selling the extra Put exposes you to owning the stock with a basis of 130, if it closes under 145 on October Expiry. The options trade can play out over a longer time frame but also minimizes the capital at risk.
Walt Disney, Ticker: $DIS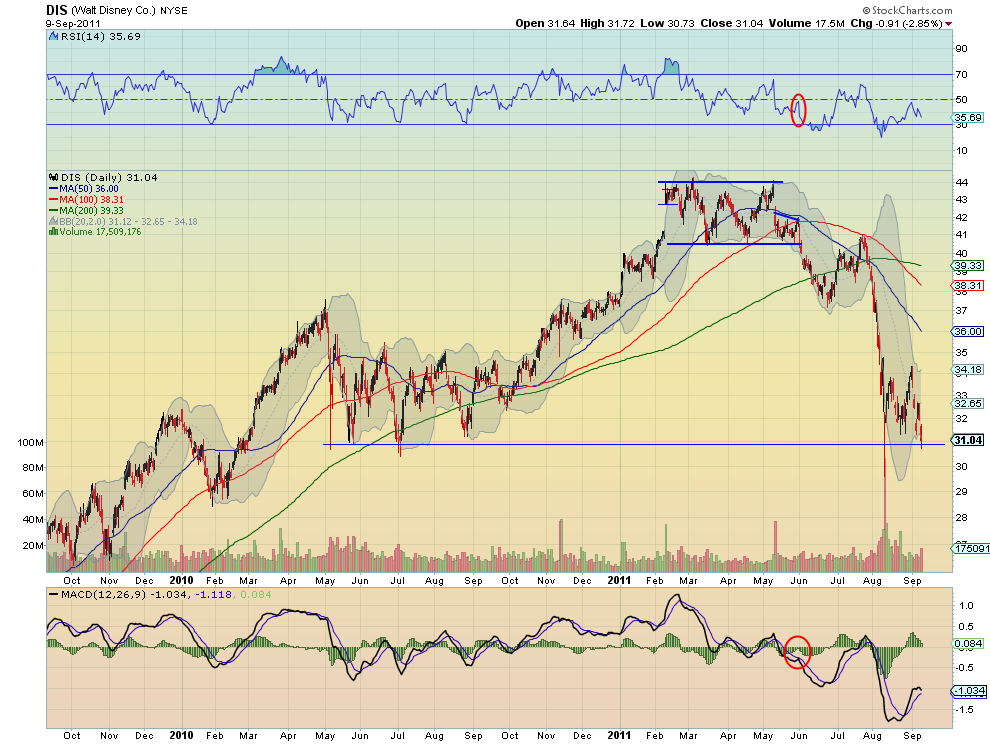 Walt Disney is falling out of a Bear flag, and testing support near 31. The downward sloping RSI and MACD that about to cross negative support more downside. If it falls under under 31 there is support at 29 and 28.7 followed by 26.50. The target on the breakdown from the flag is 23. Sell it short on a trigger under 31 with a stop at 31.50 and move the stop lower as it passes through support levels.
Netflix, Ticker: $NFLX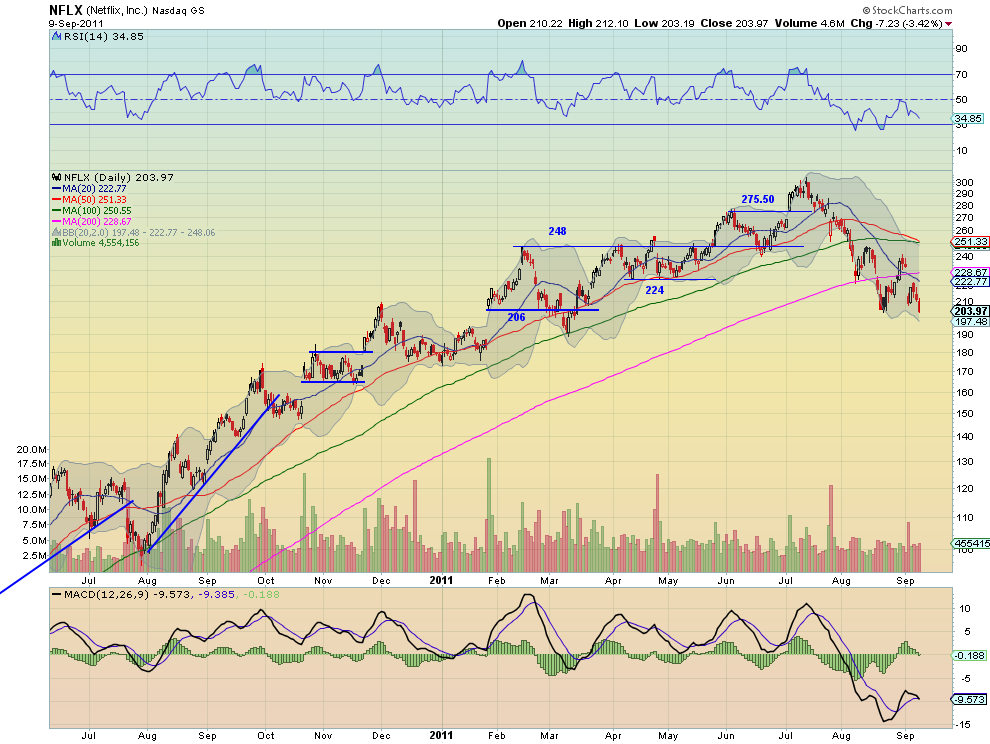 This movie has ended and the credits are now rolling. If it falls under 200, then there is support lower at 191, followed by 180.5, and then 176.4 and 165. you can short this with a trigger under 200 and using a stop at 206, rolling the stop lower as it passes through support levels. Alternatively you can get short exposure via the October 195/175 Put Spread for a debit of $6.45. This may be preferred as the short interest is elevated at over 12.5%. If you are happy owning Netflix with a 145 basis then you can also sell a October 165 Put for 4.70, converting it to a 1×2 Ratio Put Spread and reducing the cost of the combination to $1.75.
Westmoreland Coal, Ticker: $WLB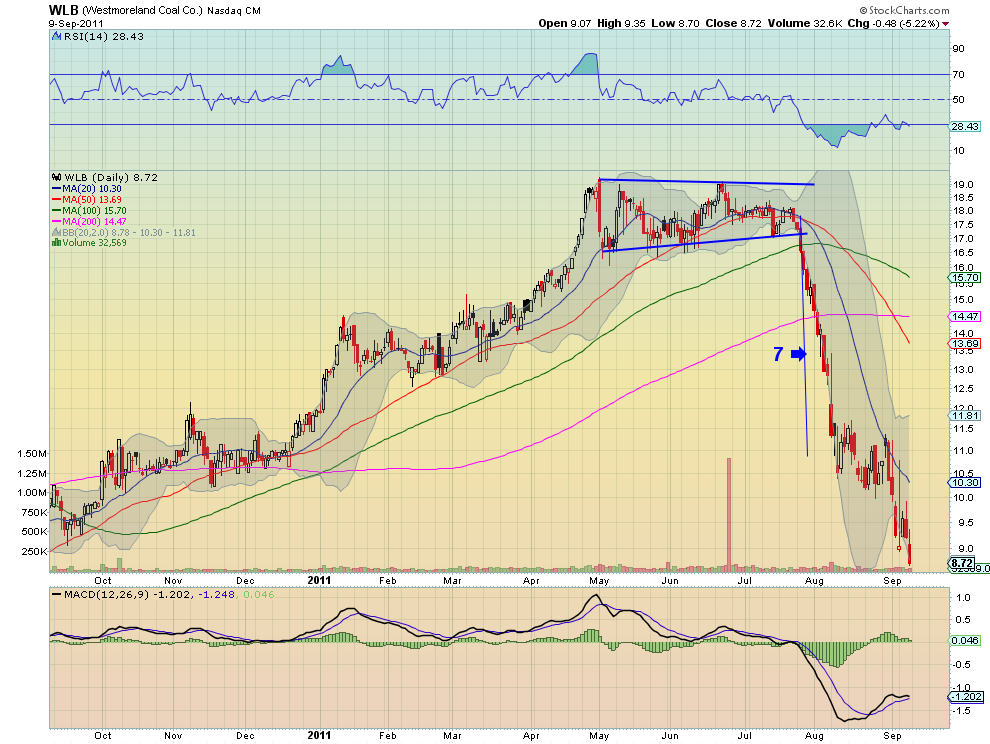 Westmoreland Coal is falling out of a bear flag between 10.30 and 11.30. The RSI has made it back to 30 and stalled in bearish territory while the MACD is flirting with a negative cross. Sell it short with a stop at 9.25 looking for a target of 4 on the Measured Move(MM) lower out of the flag.
Weight Watchers International, Ticker: $WTW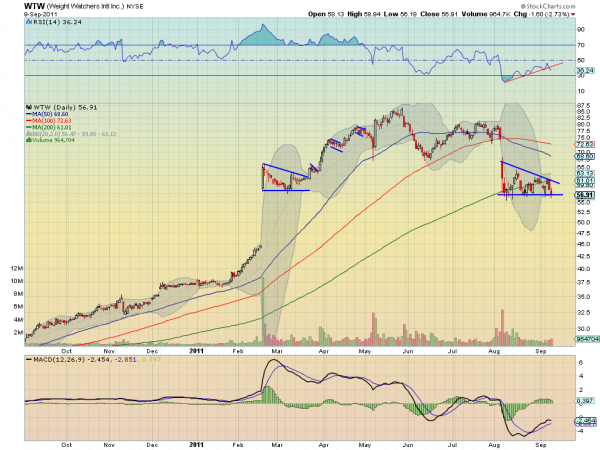 Weight Watchers International is in a descending triangle with a base at 56.8. It has a RSI that is running lower and broke the rising trend, and a MACD that is waning. Volume has also picked up the last few days as it has moved lower. If it falls under the triangle then the target on the breakout pattern is 47 but there is no support lower until the gap at 44.70 is filled. This can be sold short on a break under the triangle using a stop at 57.5 and moving it to a 2% trailing stop once it gets under 55.80. If it falls to 50 it may be worth taking gains and then buying a downside October 50 or 47.5 Strike Put. Alternatively you can gain short exposure now by buying an October 55/45 Put Spread for $2.70.
Up Next: The Rest
If you like what you see above sign up for deeper analysis and trading strategy by using the Get Premium button above. As always you can see details of individual charts and more on my StockTwits page.
The information in this blog post represents my own opinions and does not contain a recommendation for any particular security or investment. I or my affiliates may hold positions or other interests in securities mentioned in the Blog, please see my Disclaimer page for my full disclaimer.
blog comments powered by

Disqus
Gregory W. Harmon CMT, CFA, has traded in the Securities markets since 1986. He has held senior positions including Head of Global Trading, Head of Product Development, Head of Strategy and Director of Equity. (More)

Recent Posts

Archives