CPI Doesn't Fill Your Belly Like CRB Can
The cost of everything you need to buy, food, gasoline, and clothes is higher and rising rapidly, yet the the Federal Reserve continues to see moderating inflation that is at best transitory. How can that be? Part of the answer lies in how you measure inflation. The Consumer Price Index (CPI) is what the Federal Reserve uses. The ThomsonReuters/Jefferies CRB Index measures the cost of things you actually buy. Below is a chart of the two plotted against each other. The CRB is plotted on the left scale and shows a rise from about 200 to over 360 since the low in 2009. That is about 34% per annum rise in the cost of goods you buy. The CPI is plotted on the right hand scale and shows a rise from about 210 to 226 over this same period or about 3.7% per annum rise. The first thought that comes to mind is that it is no wonder that Ben Bernanke and his team cannot see that everything is more expensive. The second thought is then, how can there be such a big difference?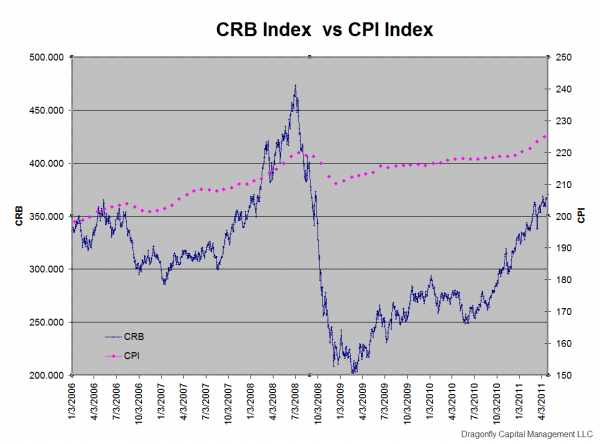 The answer lies in what items you use and how you create your basket of goods. From the US Department of Labor Bureau of Labor Statistics website, "The CPI represents all goods and services purchased for consumption by the reference population (U or W) BLS has classified all expenditure items into more than 200 categories, arranged into eight major groups. Major groups and examples of categories in each are as follows:
FOOD AND BEVERAGES (breakfast cereal, milk, coffee, chicken, wine, full service meals, snacks)
HOUSING (rent of primary residence, owners' equivalent rent, fuel oil, bedroom furniture)
APPAREL (men's shirts and sweaters, women's dresses, jewelry)
TRANSPORTATION (new vehicles, airline fares, gasoline, motor vehicle insurance)
MEDICAL CARE (prescription drugs and medical supplies, physicians' services, eyeglasses and eye care, hospital services)
RECREATION (televisions, toys, pets and pet products, sports equipment, admissions);
EDUCATION AND COMMUNICATION (college tuition, postage, telephone services, computer software and accessories);
OTHER GOODS AND SERVICES (tobacco and smoking products, haircuts and other personal services, funeral expenses)."
The Composition of the CRB is as below.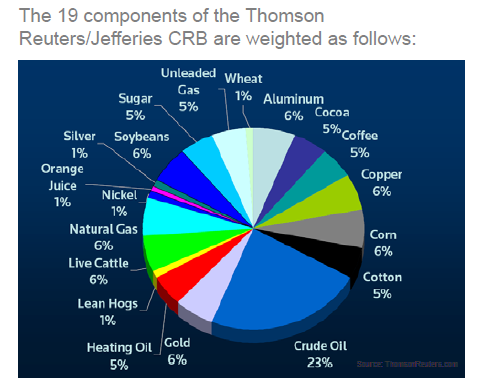 x
x
x
x
x
x
x
x
x
x
x
x
x
x
x
x
x
x
x
x
x
Can you see the difference? The CRB consists of a basket of goods that you buy regularly. You are reminded how much theses goods change every time you fill up your tank or go to the grocery store. The major additions to that the CPI adds in are important costs but ones that often only change once per year or less like a mortgage or rent payment and the cost of healthcare. Additionally it adds items that are usually one off or so expensive that you do not look at them the same way, like college tuition or a new car. These additions have significant weights. Housing for example has a weighting of over 35% excluding energy costs, and new cars, education and medical costs another 18% weighting. Over 50% of the index is from items that change once a year or less. No wonder it is more stable. This does not answer whether or not the Federal Reserve is looking at the correct measure, but at least now you can make the argument with valid data.
Sources : CRB – Thomson Reuters/Jefferies via Jefferies.com and Thomsonreuters.com
CPI – US Department of Labor Bureau of Labor Statistics
As always you can see details of individual charts and more on my StockTwits feed and on chartly.)
If you like what you see above sign up for deeper analysis and trading strategy by using the Get Premium button above. As always you can see details of individual charts and more on my StockTwits page.
The information in this blog post represents my own opinions and does not contain a recommendation for any particular security or investment. I or my affiliates may hold positions or other interests in securities mentioned in the Blog, please see my Disclaimer page for my full disclaimer.
blog comments powered by

Disqus
Gregory W. Harmon CMT, CFA, has traded in the Securities markets since 1986. He has held senior positions including Head of Global Trading, Head of Product Development, Head of Strategy and Director of Equity. (More)

Recent Posts

Archives