TA is About Reflection, not Inflection
Below is a chart of the S&P 500 ETF, SPY, on a 5 minute scale for the last 10 trading days. On it I use a couple of sets of Fibonacci arcs and fans, several trend lines and a couple of longer term support and resistance levels.   Look at all those lines.  This chart gets me excited.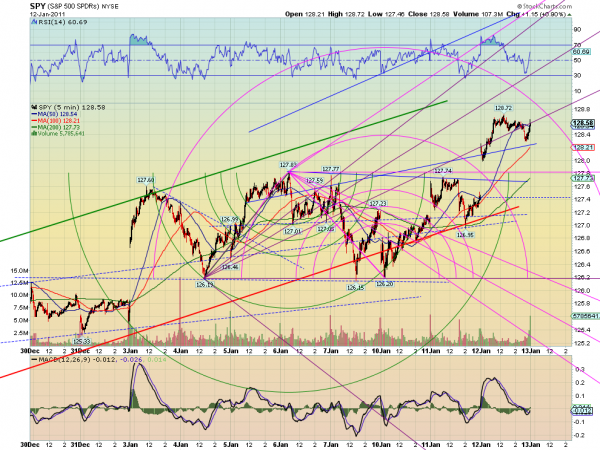 Voodoo Science
But many participants in the markets believe that Technical Analysis is a bunch of hocus pocus. That trendlines may show where a stock has been but how can they predict the future. That patterns like symmetrical triangles, Head and Shoulders tops, ascending triangles and flags and pennants can be drawn on any chart so how can they have any value. And especially that tools like Fibonacci lines, arcs and fans are just one step away from using astrology or moon cycles to predict price movements (some Technical Analysts use those too!). Fundamental analysis is the only way to determine the proper and fair value of a company or commodity.
Points of Reflection, Not Inflection
These participants miss the point. Technical Analysis is based on sound reasoning about price history and investor psychology using time tested tools.  It is too deep for a few hundred words here.  But the goal is to use price history to give an edge to a unclear situation.  The key point that is usually misunderstood is that Technical Analysis looks to identify points of where something based on history may happen. Not to give hard and fast line in the sand predictions of reversal or targets. Points of Reflection, not Points of Inflection. No technical analyst that I know looks at a chart and sets up buy and sell levels from their analysis and then just walks away. All these lines are used as a guide to determine where to start paying attention, because these areas have had meaning in the past.
Entries and Exits
What is interesting is that many of those same skeptics, after they have run their revenue projections and cost models to determine that a stock is undervalued or overvalued, then turn to their trader, who invariably uses some form of technical analysis to determine when to enter and exit the stock.
So next time you meet a TA at a cocktail party, before you brush them aside for the shrimp cocktail, remember that they are using time tested tools to gain an edge.  Just like you.
Trade'm well.
(As always you can see details of individual charts and more on my twitter feed and on chartly.)
If you like what you see above sign up for deeper analysis and trading strategy by using the Get Premium button above. As always you can see details of individual charts and more on my StockTwits page.
The information in this blog post represents my own opinions and does not contain a recommendation for any particular security or investment. I or my affiliates may hold positions or other interests in securities mentioned in the Blog, please see my Disclaimer page for my full disclaimer.
blog comments powered by

Disqus
Gregory W. Harmon CMT, CFA, has traded in the Securities markets since 1986. He has held senior positions including Head of Global Trading, Head of Product Development, Head of Strategy and Director of Equity. (More)

Dragonfly Capital Updates

Recent Posts

Archives